Overview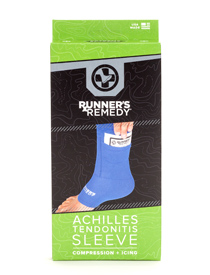 Achilles tendinitis describes an inflammatory change of the Achilles tendon without a tear of the tendon. Achilles tendinitis may be acute or chronic. The onset of pain is usually unilateral but may be found bilaterally. Achilles tendinitis is common in the third or fourth decade of life in patients who are active with sports or in jobs that require physical labor. Pain is described at the insertion of the tendon in the heel bone or in the body of the tendon.
Causes
Although a specific incident of overstretching can cause an Achilles tendon disorder, these injuries typically result from a gradually progressive overload of the Achilles tendon or its attachment to bone. The cause of this chronic overload is usually a combination of factors that can put excess stress on the tendon: being overweight, having a tight calf muscle, standing or walking for a long period of time, wearing excessively stiff or flat footwear, or engaging in significant sports activity.
Symptoms
Achilles tendinitis symptoms present as mild to severe pain or swelling near the ankle. The pain may lead to weakness and decreased mobility, symptoms that increase gradually while walking or running. Over time, the pain worsens, and stiffness in the tendon may be noted in the morning. Mild activity may provide relief. Physical exam may reveal an audible cracking sound when the Achilles tendon is palpated. The lower leg may exhibit weakness. A ruptured or torn Achilles tendon is severely painful and warrants immediate medical attention. The signs of a ruptured or torn Achilles tendon include. Acute, excruciating pain. Impaired mobility, unable to point the foot downward or walk on the toes. Weight bearing or walking on the affected side is not possible.
Diagnosis
During an examination of the foot and ankle, you doctor will look for the following signs, Achilles tendon swelling or thickening. Bone spurs appearing at the lower part of the tendon at the back of the hell. Pain at the middle or lower area of the Achilles tendon. Limited range of motion of the foot and ankle, and a decreased ability to flex the foot. Your doctor may perform imaging tests, such as X-rays and MRI scans, to make a diagnosis of Achilles tendinitis. X-rays show images of the bones and can help the physician to determine if the Achilles tendon has become hardened, which indicated insertional Achilles tendinitis. MRI scans may not be necessary, but they are important guides if you are recommended to have surgical treatment. An MRI can show the severity of the damage and determine what kind of procedure would be best to address the condition.
Nonsurgical Treatment
Use the R.I.C.E method of treatment when you first notice the pain. Although rest is a key part of treating tendonitis, prolonged inactivity can cause stiffness in your joints. Move the injured ankle through its full range of motion and perform gentle calf and ankle stretches to maintain flexibility. If self-care doesn't work, it's important to get the injury treated because if the tendon continues to sustain small tears through movement, it can rupture under excessive stress. Your doctor may suggest a temporary foot insert that elevates your heel and may relieve strain on the tendon. Other possible treatments include special heel pads or cups to wear in your shoes to cushion and support your heel, or a splint to wear at night. Physical therapy may also help allow the tendon to heal and repair itself over a period of weeks.
Surgical Treatment
Your doctor may recommend surgery if, after around six months, other treatments haven?t worked and your symptoms are having an impact on your day-to-day life. Surgery involves removing damaged areas of your tendon and repairing them.
Prevention
Warm up slowly by running at least one minute per mile slower than your usual pace for the first mile. Running backwards during your first mile is also a very effective way to warm up the Achilles, because doing so produces a gentle eccentric load that acts to strengthen the tendon. Runners should also avoid making sudden changes in mileage, and they should be particularly careful when wearing racing flats, as these shoes produce very rapid rates of pronation that increase the risk of Achilles tendon injury. If you have a tendency to be stiff, spend extra time stretching. If you?re overly flexible, perform eccentric load exercises preventively. Lastly, it is always important to control biomechanical alignment issues, either with proper running shoes and if necessary, stock or custom orthotics.